31 Oct 2017 by Global Chamber Dallas TX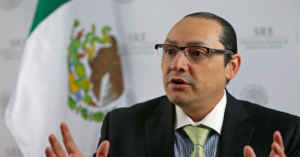 The Global Chamber® Dallas is pleased to announce that Francisco de la Torre, Consul General of Mexico, will be accepting the "Global Diplomat of the Year" award at our second annual "Grow Globally Fair" on November 16th, in Dallas, Texas.
Mr. de la Torre was nominated by Global Chamber Dallas Executive Director, Korina Smith. "I've had the chance to attend several of the Consul General's presentations. I've always been impressed by his passion for international trade and his dedication to a positive business relationship with Texas and the United States. He's doing a stellar job representing his country here in Dallas."
Francisco de la Torre began his post in Dallas on June 1, 2016 and was previously posted in Argentina and Brazil. Over the years he has had several director positions serving in various diplomatic roles. You can read his full bio HERE.
The Grow Globally Fair is a signature event hosted by Global Chamber, and is open for registration! It will be held from 3-5pm on November 16th at the Law Offices of Gardere in Uptown. Global Chamber currently has about 100 chapters world-wide that are either active and running, or have an Executive Director in training to launch their chapters. The vision is to expand into 525 metro areas by 2020. Global Chamber® is the only organization in the world with the mission to grow business from anywhere to anywhere while collaborating with every organization. We're a thriving and collaborating community of CEOs, executives and professionals in over 500 metrostaking on the world of global business. Our millions of trusted resources, followers and connections in over 5,000 cities support members growing globally by filling in the gaps that happen across borders.
Other awards will also be presented during the Grow Globally Fair 2017. Last year's winners include:
"Global Leader in Social Impact" Salah Boukadoum, Founder of Good Returns model
"Global Elected Official of the Year" Mayor of Frisco, Maher Maso
"Global Educator of the Year" Dr. Simon Mak, Ph.D, SMU's Cox School of Business
"Global Startup Leader of the Year" Jason Croft, Jason Croft Video/Marketing
"Global Service Provider of the Year" Allal Alale, Small Business Administration
"Global Bankers for Exporters of the Year" BB&T Team
"Global Exporter of the Year"... Lynn James-Mayer, BioSafeTech
"Global Attorney of the Year" Kevin Maher, Baker & McKenzie