The Global Chamber® Dallas is pleased to announce our second annual Grow Globally Fair on November 16th, in Dallas, Texas.
'Global Startup of the Year' will be awarded to Joshua Johnson, Sr of Global Expertise! Josh is CEO & Co-Founder of Global Expertise, a leading Global Immigration HR Services company providing innovative On-Demand/SaaS/Human Capital Management HR Immigration services and professional development tools to both the international service provider community as well as directly to multi-national clients worldwide. Labeled as a leading HR Tech Startup, Global Expertise continues to significantly increase access for Global HR to elite-level immigration solutions from any country – to any country via its exclusive service model and tech platform: GLOBALLINK.
Global Expertise w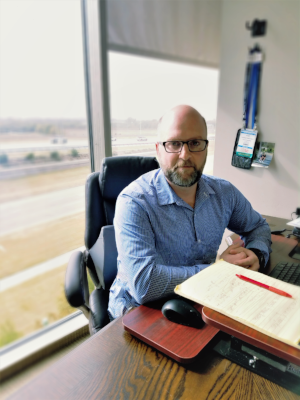 as nominated by Igal Svet of National Geographic and Greg Donovan of Atlas Group International.
Prior to Global Expertise, Josh's career spanned more than 15 years within the international business community as an entrepreneur within the entertainment & pro-sports industries working with such notable profiles as American Idol, Ariana Grande, Billy Joel, Major League Soccer, and the UFC. As part of his dedication to making positive impacts on the world Josh is an advisor to multiple non-profits as well as a leading AI Innovator based in Austin. He is married to fellow Global Expertise COO & Co-Founder Amberley Johnson, and when the couple is not leading their industry through innovation they are consumed with the pleasure of their 4 kids; including their 15-year-old daughter to whom Josh will fully admit is the only person on earth he is scared of.
The Grow Globally Fair is an annual event hosted by Global Chamber and open for registration! It will be held from 3-5pm on November 16th 2017 at the Law Offices of Gardere in Uptown. Global Chamber currently has about 100 chapters world-wide that are either active and running, or have an Executive Director in training to launch their chapters. The vision is to expand into 525 metro areas by 2020. Global Chamber® is the only organization in the world with the mission to grow business from anywhere to anywhere while collaborating with every organization. We're a thriving and collaborating community of CEOs, executives and professionals in over 500 metrostaking on the world of global business.
The Fair culminates with the Global Awards ceremony. Please join us as we recognize Josh and others. Other award winners in 2017 include:
"Global Diplomat of the Year" Consul General of Mexico in Dallas, Francisco de la Torre. Read more HERE.
"Global Startup of the Year" Joshua Johnson, Sr. CEO of Global Expertise
"Global Innovator for Education Technology" Ramesh Balan, CEO & Founder of Knomadix
"Global Game Changer under 30" Kyle Lukianuk President of Good Returns. Read more HERE.
"Global Service Provider of the Year" Jessica Gordon, Director of the US Commercial Service
"Exporter of the Year in the Field of Electronics" Knight Electronics / Orion Fans
"Exporter of the Year in the Health Industry" Medi-Dyne
"Emerging Exporter of the Year"... Milk Snob
"Global Attorney of the Year" Olga Torres of Torres Law, PLLC
We look forward to seeing you there -- cheers!