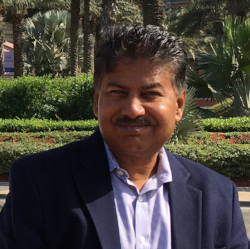 The Global Chamber® Dallas is excited to announce "Global Innovator for Education Technology" will be awarded to Ramesh Balan, CEO and Founder of Knomadix Corporation, at our second annual Grow Globally Fair on November 16th, in Dallas, Texas!
Ramesh Balan is a serial entrepreneur, a successful business executive, an inventor and a technologist who has always believed in thinking differently – using unconventional outside-the-box approaches to solve large-scale complex problems in many industries, including Interactive Media, Telecom, Healthcare, and, most importantly, Education.
His latest venture, Knomadix, builds interactive mobile solutions that transform how educators teach and how students learn. With its fresh approach to creating and delivering customized digital content, Knomadix is leading the emerging mobile education market with digital tools for teachers, curriculum specialists, content developers and school administrators. In addition, Knomadix recently launched Number Sense, an artificial intelligence based app that helps students master math skills while developing critical thinking and cognitive skills through gamification. We were introduced to Ramesh's work through our Advisory Board member, Hubert Zydorek, of UT Dallas' Center for Global Business.
Ramesh is extremely passionate about Knomadix's mission to transform education using a platform-based approach to delivering interactive and differentiated learning to students worldwide. Ramesh's passion for education started at a very young age. He lost his father at the age of 7 and was raised by his mother, a life-long educator. He was inspired by his mother, who started her career as a high school teacher and later became the superintendent of the City of Madras -- Department of Education, that provided education for over a million students. Ramesh later observed through the eyes of his children how much an educational reform was needed to engage students, especially in science and math. Knomadix is an expression of Ramesh's commitment to K-12 education. Today, less than three years after its launch, the innovative technology is being tested for large-scale deployments in five countries around the globe to transform K-12 education.
The Grow Globally Fair is an annual event hosted by Global Chamber and is open for registration! It will be held from 3-5pm on November 16th, 2017 at the Law Offices of Gardere in Uptown. Global Chamber currently has about 100 chapters worldwide that are either active and running, or have an Executive Director in training to launch their chapters. The vision is to expand into 525 metro areas by 2020. Global Chamber® is the only organization in the world with the mission to grow a business from anywhere to anywhere while collaborating with every organization. We're a thriving and collaborating community of CEOs, executives and professionals in over 500 metros taking on the world of global business.
The Fair culminates with the Global Awards ceremony. Please join us as we recognize Ramesh and other 2017 award winners:
"Global Diplomat of the Year" Consul General of Mexico in Dallas, Francisco de la Torre. Read more HERE.
"Global Startup of the Year" Joshua Johnson, Sr. CEO of Global Expertise
"Global Innovator for Education Technology" Ramesh Balan, CEO & Founder of Knomadix
"Global Game Changer under 30" Kyle Lukianuk President of Good Returns. Read more HERE.
"Global Service Provider of the Year" Jessica Gordon, Director of the US Commercial Service
"Exporter of the Year in the Field of Electronics" Knight Electronics / Orion Fans
"Exporter of the Year in the Health Industry" Medi-Dyne
"Emerging Exporter of the Year" Milk Snob
"Global Attorney of the Year" Olga Torres of Torres Law, PLLC
We look forward to seeing you there -- cheers!