Collaborators
Global Chamber® collaborates with top organizations to build win-win relationships that advance cross-border trade. Our collaborators and partners…
Are interested in growing cross border trade and investment
Appear on our website – as partners, sponsors and resources
Have their global business events posted in our event calendars
Are involved with articles and videos, and are featured in our global news
Co-host events and participate as speakers, moderators and VIP's
Receive social media support on Twitter, Facebook, LinkedIn and in blogs
Get preferred seating at monthly events with spotlight introduction
Gain access to special opportunities with the Global Chamber around the world
Gain access to global business content through a variety of technologies
Attend our virtual events from anywhere in the world
Collaborate in Chapter Metro or across the globe... more on our reach HERE
GeniusDen offers executive suites in its remote office space with free open on-street parking just outside the door, We have monthly speakers and workshops in a growth-focused community of executives and business founders at our 10,000 square foot business incubator located in Deep Ellum. GeniusDen matches early stage founders with mentors and resources to help its members grow purpose-driven companies where great people do good work. Individuals who work remotely can use the coworking space, or companies wanting dedicated office space can find offices built for two to ten people..  Log into https://GeniusDen.com to schedule a tour and see our upcoming events. 
When becoming a member at the GeniusDen you will have free access to all Global Chamber virtual events, as well as free access to all events held at the GeniusDen. 

Choose the Dallas EMBA that offers the most comprehensive China network in the
Southwest, an Asian Business Studies Graduate Certificate, a price that makes
sense and a schedule that is workable for busy Dallas EMBA students. 
When becoming a member at Global Chamber Dallas you will get a $4,000 tuition discount at UTA.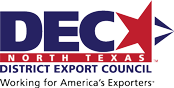 The North Texas District Export Council (NTDEC) is one of the nationwide networks of DEC's which make significant contributions to America's international competitiveness. It is a diverse group of volunteer International Trade Professionals representing regions throughout North Texas.

Level Office offers fully furnished, amenity-rich workspaces with direct fiber internet &WiFi in prime locations so your business can thrive. Inquire about renting a budget-friendly private office, virtual office, daily office, coworking, meeting or event space. Perfect for freelancers, professionals and companies expanding into a new city or looking for an impressive new office space.
---
We welcome you to the Irving area and encourage you to learn more about our fabulous community. TheGreater Irving-Las Colinas Chamber of Commerce is eager to help you find a new home for your expanding business and growing family within our convenient and inviting neighborhoods.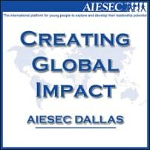 AIESEC Dallas has joined Global Chamber® Dallas with the purpose to provide the companies within the Dallas-Fort Worth region with the opportunity to outsource their recruitment and hire international interns. This will potentially lead to more successful global business trade and increase the success in businesses within the Dallas region. Read more here!
If you're interested in learning more about Global Chamber Dallas or in becoming a collaborator, contact us at DFW@globalchamber.org, 469-759-3903.